ABOUT PROSpect
The PRone and OScillation Pediatric Clinical Trial (PROSpect) is an international clinical research study funded by the National Institutes of Health (NIH) Heart, Lung and Blood Division (NHLBI).
PROSpect researchers hope to learn more about how best to care for children with acute and severe respiratory failure. The study team also hopes to learn more about a child's quality of life and emotional health after they leave the pediatric intensive care unit.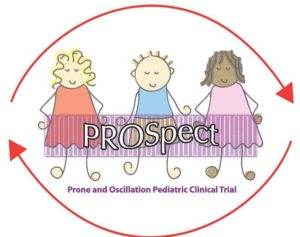 When children's lungs are very sick they often need a machine to help them breathe (ventilator).  There are different types of breathing machines; conventional or high frequency. Children can also be placed in different positions while on a breathing machine.  The child could lie on their back (supine position) or lie on their stomach (prone position). The goal of PROSpect is to learn the best way to use breathing machines and positioning when children with very sick lungs are unable to breathe for themselves.
With a parent's permission, 800 children from across the world will be assigned to one of four groups that combine one of the two forms of breathing machines (conventional or high frequency) and one of the two forms of positioning (supine or prone).  PROSpect includes follow up after the child leaves the hospital. During this time, parents (or the child) will be asked to complete surveys.